Removing Buckthorn with the Buckthorn Baggie
How to remove buckthorn with no chemicals or the need of pulling roots of plant out of the ground with a buckthorn puller.
This buckthorn removal technique was developed over several years of field testing and documentation on how to eliminate buckthorn and its removal.
Killing buckthorn is take total commitment from us land stewards. Not just controlling buckthorn but totally eliminating buckthorn is what we need to strive for.

Money back guarantee.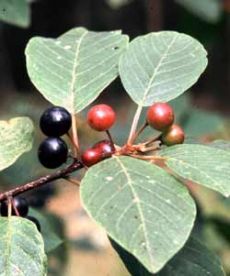 How to control buckthorn:
Goal is to remove, control, and eradicate buckthorn plants without the use of chemicals or uprooting and disturbing ground soil with a buckthorn puller or tree pulling broom allowing more buckthorn seeds on the ground from prior years to germinate. Can be used anytime of the year for buckthorn removal. This bag can be used on other invasive plants as well that do not use root suckers to re-sprout.
Effectively allows the removal of buckthorn year round with no need to apply chemicals or use a buckthorn puller to uproot plants. This process will work on almost any plant that is targeted, invasive or non-invasive.
Eliminate Buckthorn using the Buckthorn Baggie:
Cut any buckthorn or plant with loppers or saw leaving 6 inch stump. (any time of the year)
Place proprietary plastic bag over buckthorn stump.
Zip tie bag at middle of buckthorn stump. (up 3" from ground)
Make sure bag is touching ground and fanned out at bottom to catch any new buckthorn shoots.
Return one year later to cut down any other new buckthorn growth in the area.
Remove and re-use bag placed last year on last year's buckthorn stump to a freshly cut down buckthorn plant.

This product can be re-used from year to year depending on how much sun hits the buckthorn baggie. The will last a full 2 years in full sun.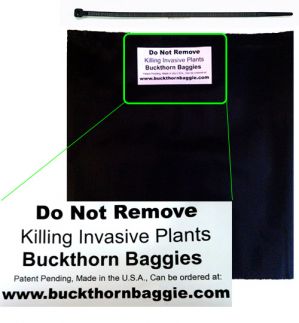 Instructions on how to eliminate buckthorn with the Buckthorn Baggie.
---
This is a buckthorn plant cut and left with no action after cutting it down. Controlling buckthorn is very difficult just cutting it down and leaving it is not the answer you can see in the photo of how it comes back stronger. Killing buckthorn is a must or it comes back (angry) stronger.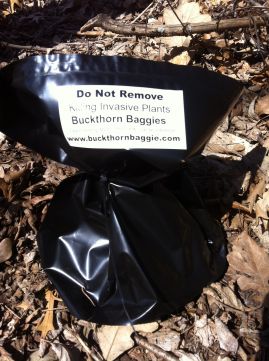 This is a buckthorn stump that has a Buckthorn Baggie properly attached to it. No need to use a puller or broom to remove the stump. Eradication of buckthorn can now be done with no chemicals.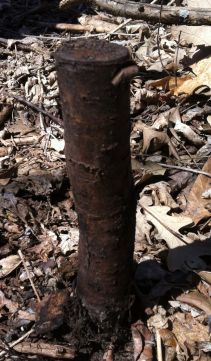 Killing buckthorn has never been so easy. Dead buckthorn plant no chemicals used, roots are left in the ground to prevent erosion and does not disturb the soil allowing more buckthorn seeds to germinate. Works great on hillsides where erosion could be a big issue. How to eliminate buckthorn has never been so easy!